CD Review: Gorgeous Guitar Music from Unlikely Sources
January 21, 2015
The little-known composer Pedro Ximenez de Abrill produced hundreds of pieces of music during the first half of the 19th century, both in his native Peru and in neighboring Bolivia.
Most of his output didn't make it out of South America, though some of his minuets for guitar turned up in Europe and found their way into the repertoire of a handful of popular players, particularly in Italy. (It has been suggested that Andres Segovia knew of the Ximenez guitar music, but he doesn't appear to have played it in public if he did.) Only recently was a cache of Ximenez's music discovered in Bolivia—a startling find which, over time, will no doubt add to the reputation of this talented and prolific composer. In the December 2014 issue of Classical Guitar, writer Steve Marsh raved about an exciting CD release featuring nearly a quarter of the Ximenez guitar minuets, called Guitarra Clasica Del Peru, played by Alexander-Sergei Ramirez:
In 2004, in Sucre, Bolivia, the American historian and author William L. Lofstrom was approached in the street by a man of Bolivian origin offering to sell him a vast quantity of antique hand-written music manuscripts from the pen of the Peruvian musician Pedro Ximenez de Abrill (1780-1857), an individual sometimes referred to as the "Rossini of South America" by his contemporaries. These documents, crafted on handmade rag paper and in almost pristine condition, were apparently discovered in a sizeable trunk which the man had inherited from four elderly deceased cousins. Ximenez de Abrill was a highly prolific composer who wrote psalms, masses, hymns, passions, symphonies, waltzes and sonatas—the list goes on. So important was this "find" that they now reside in the National Archives of Bolivia. You couldn't make this story up!
Among the manuscripts were 100 minuets for solo guitar, 23 of which were chosen for this disc by Alexander-Sergei Ramirez—himself of Peruvian origin—and these have proven to be a real eye-opener, certainly for this reviewer, for without a doubt this recording contains some of the most splendidly charming pieces of guitar music from the 19th century I have come across. They are highly inventive, with strong melodic lines and musical appeal. If the minuets on this disc are representative of Ximenez de Abril's music, then I can well see a surge in interest in his other works, as well.
The remainder of the program is of equal merit, with 13 very attractive anonymous works taken from two different collections: the Quaderno—Musica para Guitarra de Mathias Jose Maestro (1786) and Libro de Zifra (1805). Once more, these are compositions of high merit and musicality, none of them seemingly inserted into the program as simply "filler." The absolute pinnacle of this recording has to be the Largo in B minor (from Quaderno…'), a profound, somber, strongly emotive, Weiss-like composition which is worth the price of this CD alone.
Alexander-Sergei Ramirez proves himself to be an excellent ambassador for these works, and one cannot really imagine these performances improved in any way. The recorded sound is top-class, as are the sleeve notes and well-designed packaging. A quality release from every aspect, and very highly recommended.
Die Gitarre ist "das" klassische Soloinstrument Lateinamerikas. Und als wahre Schätze erweisen sich die Gitarrenstücke des erst vor Kurzem "wiederentdeckten" peruanischen Komponisten Pedro Ximénez (1780 –1857). Der in Düsseldorf lebende peruanische Gitarrist Alexander-Sergei Ramirez hat Ximénez so eindringlich mit Noblesse, Feingefühl und großer Herzens-Intensität zum Leben erweckt, dass man schon nach dem ersten der insgesamt 24 "Minuets", die 1844 in Paris erschienen, der faszinierenden Schönheit seines Spiels erliegt, und sich dann mehr als eine Stunde lang wundert über die musikalische Qualität und die lyrische Kraft dieser meist einfach gebauten, 32 Takte langen Miniaturen. Das ist das schönste, das suggestivste Gitarrenalbum seit Langem und ein weiteres empfindsames Plädoyer für die Intimität und den Zauber der klassischen Gitarre, die, wenn sie so leuchtend und perfekt gespielt wird, endlich auch in unseren Breitengraden mehr Freunde finden sollte.
Attila Csampai, Crescendo Magazine
Now available: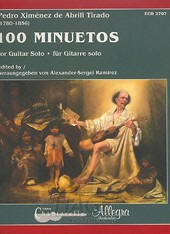 100 Minuetos by Pedro Ximénez de Abrill Tirado (1780-1856)
Scores of the 100 Minuetos by Pedro Ximénez de Abrill Tirado
Chanterelle Verlag im Allegra Musikverlag, Michael Macmeeken,
Edited by Alexander-Sergei Ramírez
Zimmermann Verlag
ECH 2707
ISMN: M-2047-2707-0
EAN: 9990001394653
100 Minuetos by the great composer from Perú:
Pedro Ximénez Abrill Tirado (1780, Arequipa, Perú-1856, Sucre, Bolivia)
"One of the greatest discoveries of the classical guitar repertoire in the past decades!" ORF - Austrian Radio
Further Infos: https://www.musikverlag-zimmermann.de/…/100-minuetos-fuer-gitarre solo
We proudly present the first complete modern publication of the 100 Minuets for guitar by Pedro
Ximénez de Abrill Tirado (1780, Arequipa, Peru - 1856, Sucre, Bolivia). The recently found works of
this legendary and prolific composer include, among others, 40 Symphonies, 48 Masses, 226 songs
with piano accompaniment, 50 Waltzes for piano, Chamber works, and various guitar works and in
2013 were registered with the UNESCO "Memory of the World" list. Pedro Ximénez was certainly
one of the foremost South American composers of all times. Little wonder that this contemporary
of Fernando Sor was acclaimed as "The Rossini of the Americas" These Minuets for guitar solo are
a most welcome addition to the classical guitar repertory and important contribution to the history
of the Latin American guitar history.
One of the greatest discoveries of classical guitar repertoire for several decades! ORF [Austrian Radio]